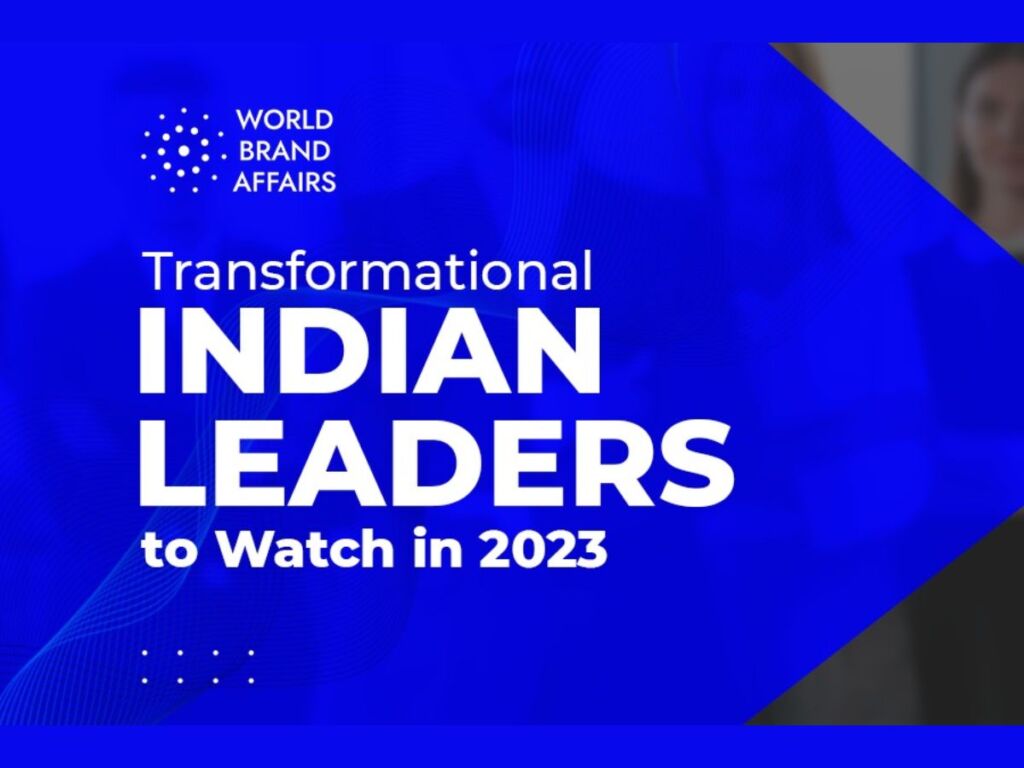 New Delhi (India), April 29: There are leaders in our country who inspire and drive positive change each day while we remain in oblivion of their presence. In a time of constant growth and evolution, many individuals are making significant contributions to various fields, including business, politics, social activism, education, and more. The leaders on the Transformational Indian Leaders to Watch in 2023 list, curated by World Brand Affairs are one of them. All the mentioned figures have shown a deep commitment to transforming India and making it a better place for all. They are innovators, change-makers, and trailblazers who are making a real difference in their respective fields. Whether they are leading social movements, launching groundbreaking startups, or driving government policy, these names are pushing the boundaries of what is possible in the country. As we look ahead in the future, we are sure that they will continue to play a vital role in shaping the future of India.
Vijay Shekhar Sharma, Founder & CEO of Paytm
Vijay Shekhar Sharma is an Indian business magnate and the founder of Paytm, India's leading digital payment platform. Born in Aligarh, India, Sharma started his entrepreneurial journey at the age of 19 and went on to build a multi-billion dollar company that transformed the way Indians transact online. In January 2022, he was appointed as the UA Ambassador in India by the Universal Acceptance Steering Group, supported by ICANN.
Sachin Bansal, Chairman of Navi Group
Sachin Bansal is an Indian entrepreneur best known for co-founding Flipkart, India's largest e-commerce marketplace. Born in Chandigarh, India, Bansal started Flipkart with his friend Binny Bansal in 2007 and grew it into a multi-billion dollar company that he sold to Walmart in 2018. He is currently the Chairman of Navi Group, a financial services company he founded in 2018.
Sudha Murty, Author & Chairperson of Infosys Foundation
Sudha Murty is an Indian author, philanthropist, and social worker. Born in Karnataka, India, Murty is the chairperson of the Infosys Foundation. She is also involved in various social causes, including the improvement of education, health care, and rural development. She has been awarded Padma Shri and Padma Bhushan by the Government of India for her relentless work towards the underserved.
Falguni Nayar, Founder & CEO of Nykaa
Falguni Nayar is an Indian entrepreneur and the founder of Nykaa, India's leading beauty and wellness e-commerce platform. Born in Mumbai, India, Nayar started Nykaa in 2012 and turned it into a multi-million dollar company. She has been recognized for her contributions to the beauty and e-commerce industries and was named one of the most powerful women in business by Fortune India.
Yasmin Jal Mistry, Entrepreneur & Social Activist
Yasmin Jal Mistry is a renowned entrepreneur and social activist who has made an indelible mark in both business and community service. She is the MD of Durand Forms (India) Pvt. Ltd., YM Securities, and Mistry Logistics. She is also the founder and trustee of ZTFI, an NGO that provides relief to underprivileged members of the Parsi/Irani Zoroastrian community. Her journey is a testament to exceptional crisis management and the power of determination.
Rajesh Reddy, Founder of SR Agro Farms & Proteins Pvt.
S Rajesh Reddy is a successful entrepreneur and business personality with over two decades of experience in the poultry farming industry. With his passion for high-quality, locally sourced poultry products, he founded SR Agro Farms & Proteins Pvt. His dedication to sustainability and ethical farming practices has made the company a leading producer of antibiotic-free poultry products.
Dr. Basant Goel, Owner & Chief of Goel Medicos 
Dr. Basant Goel is the Chief of Goel Medicos & Director of ANT, Sparshmart, Elastage Pharmaceuticals Private Limited. Also Known as "King of Medicines" he made a name for himself not just in India but abroad. Goel Medicos is serving mostly government & private institutions in Delhi & NCR. He is the Chairman of Mission Sarvarth Seva Foundation (Regd) Delhi, General Secretary of RDCA, North East Delhi, Jyoti Nagar Vyapar Sangh (Regd.) & part of more than 100 NGO & Gaushalayas.
Sudarshan Sabat, Mind Trainer
Mr Sudarshan Sabat is a renowned mind trainer who has inspired lakhs of people with his mind power techniques. Mr Sabat offers a wide range of programs, including life coaching, business coaching and professional growth training. He has received over 50 national and international awards for his work as a mind trainer. He has published 13 books and written multiple articles in training magazines across the globe.
Tushar Nihalani, Actor and Filmmaker 
Tushar Nihalani is a versatile artist who began his career as a model and has since branched out into acting and filmmaking. Tushar has recently been selected by Digital Prapanch and Sajiv Chalchitra Nirmiti to star in their upcoming web series "Bel Patra," a poignant tale about self-discovery and confronting one's past.
Rashmi Bajaj, Interior Designer & Founder of Green Apple De
Rashmi Bajaj is an expert interior designer based in Kolkata, India. With over 15 years of experience in the field, she is the founder of Green Apple De, an interior designing firm that has completed more than 100 projects in and around India. Rashmi's creative vision and dedication have made her a sought-after designer in the region.
Ayush Gupta, CEO of Bafel Academy Pvt Ltd 
Ayush Gupta, the astute CEO of BAFEL, is renowned for his bold, intelligent, and reliable leadership. With unwavering commitment, he drives BAFEL to deliver tailored language and soft skills training for all. Right from kids to corporates, he is empowering individuals and championing healthcare professionals in securing jobs abroad.
Dr. Siddharth Bhattacharya, HR Leader & Life Coach  
Dr. Siddharth is an award-winning life coach and influencer who inspires excellence and empathy. With a PhD from Jawaharlal Nehru University and global leadership roles in Fortune-500 companies, he is a member of prestigious organizations and utilizes a unique approach to help individuals achieve their goals and overcome obstacles.
Ajit Sigamani, Vice President & Technical Director of MMA India
Apart from being the founder vice president and technical director for MMA India and holding key positions in national Jiu-Jitsu and Sambo federations, Ajit Sigamani has also been successful in establishing himself as a seasoned entrepreneur. With over 15 years of experience, he has created multiple specialist services concerning sports, healthcare, and longevity.
Mahesh Sharma, Entrepreneur 
Mahesh Sharma is a successful entrepreneur with extensive experience in various sectors such as Real Estate, Sales, AI-enabled Automation, and Fintech. Mahesh is currently involved in BuddyX, which aims to decentralize the Forex market using Blockchain and Web3.0 technologies. He has been awarded a doctorate degree from Victorian University (USA) and featured in several publications, including Outlook.
Dr. Abdulrazaq Habibkhan Pathan, CMD of Haya Infrastructure 
Dr. Abdulrazaq Habibkhan Pathan is a prominent award winning social entrepreneur, and the CMD of Haya Infrastructure, a company that is dedicated to providing affordable housing solutions to people. A pronounced ground-level educator and advocate of women's and children's education, Dr. Pathan has constantly worked towards establishing prosperity, peace, and harmony in society.
David White, Chief Marketing Officer of BuddyX
David White is a highly accomplished business professional in the blockchain, forex, and fintech sectors. As the Chief Marketing Officer, David is playing a pivotal role in developing the European and African market for BuddyX – a blockchain start-up that is decentralizing Forex Trading using Blockchain and Web3.0.
Ankit Agrawal, Co-founder & Product Director of Edumilestones.com
Ankit Agrawal is a Co-Founder and Product Director of edumilestones.com, India's largest career counselling and study abroad counselling tech platform since 2010. Over the years, he has been instrumental in creating a next-generation psychometric career assessment platform that is widely used by over 4,200 counsellors across 27+ countries.
Chintan Vasani, Partner at Wisebiz Developers    
As the director of the B D Vasani Group, Chintan has extensive business interests in real estate and finance. He is the Founder and Managing Partner of Wisebiz, a Real Estate Market Research, Strategic Planning, and Closure Management Company. Chintan is also the Vice President of Brihanmumbai Developers Association YUVA, and the Youth President of Shree Lohana Mahaparishad, a representation of 3.5 million Lohanas' all around the globe.
Dr. Abhishek Singh, Oncologist   
Dr. Abhishek Singh is a renowned oncologist who has dedicated his life to spreading cancer awareness and ensuring that all patients, regardless of their financial status, have access to quality cancer treatment for more than one and a half decades. Many of his advanced stage cancer patients improved with personalized care and treatment.
Tarun Anand, Founder and Chancellor of Universal AI University 
Tarun Anand, the Founder and Chancellor of Universal AI University, has made significant strides in the world of education by establishing India's first AI-focused university and the country's premier eco-friendly management institution, Universal Business School in Mumbai. Before these accomplishments, Tarun became the youngest Managing Director of Thomson Reuters in South Asia. His international career has taken him to London, New York, Hong Kong, and over 50 countries spanning six continents.
Aman Saluja, Founder and CEO of Digital Impression
Aman Saluja's leadership and expertise as Founder and CEO of Digital Impressions are invaluable assets to the company. With his extensive experience in digital media and business, Aman is committed to driving growth and delivering exceptional results. His vision and dedication are critical to the success of the company.
If you have any objection to this press release content, kindly contact pr.error.rectification@gmail.com to notify us. We will respond and rectify the situation in the next 24 hours.