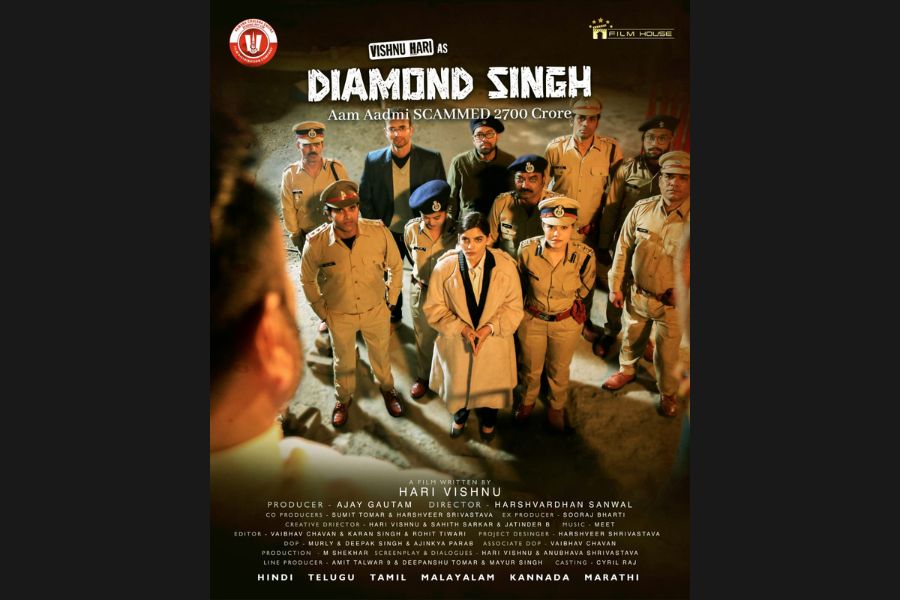 New Delhi (India), May 8: Many movies are being made today on the topic to raise awareness about Love Jihad and its negative impact on human society. One such film is DIAMOND SINGH AAM AADMI – a new Hindi-language movie that sheds light on Love Jihad and its implications. But, the film, which is different from all other movies made on the topic, just hosted a Poster Launch ceremony recently in Delhi. The movie is being released soon, in June 2023. Its Poster Launch ceremony was held in Adventure Island, Delhi.
DIAMOND SINGH AAM AADMI is a thought-provoking film which is set to hit screens soon. Based on true events, the film highlights the alleged conspiracy theory and terror funding in India and around the world.
Innocent followers need to be shown that they are engaging in activities that are against not only their own religious beliefs but also against humanity; this is one of the things expected to happen after people watch the movie DIAMOND SINGH AAM AADMI.
Coming back to the movie, the director of DAIMOND SINGH AAM AADMI, along with the cast and crew, hopes that DAIMOND SINGH AAM AADMI will spark discussions and bring attention to the issue of love jihad. The film is not intended to promote hate towards any community but to educate the audience about the potential dangers of love jihad and the need to address it. In fact, the movie is also expected to show the right path of humanity to innocent followers of Islam who are brainwashed to engage in Love Jihad and other such activities.
DIAMOND SINGH AAM AADMI reflects on real-life incidents of love jihad and the connection between the funding of money and male Muslim individuals getting monetary benefits from antisocial and terrorist groups to promote love jihad. The film raises concerns about the practice of love jihad and its implications on society.
The film is different from other movies that tackle the issue of love jihad, such as The Kashmir Files and The Kerala Story, as it showcases how Muslim boys change their identity by using Hindu names on social media to target Hindu women and girls.
The film features an ensemble cast, including popular actors and newcomers, and boasts high production values. It is set to release soon, and the makers are confident that the audience will appreciate the film's boldness and sincerity.
In conclusion, DIAMOND SINGH AAM AADMI is a film that raises awareness about the issue of jihad and its negative impact on our society.
The makers of the movie say, "It is a must-watch for anyone interested in the topic and seeks to understand it better."
The movie is a piece of art on which a large team of experts in the film industry collaborated, including producer Ajay Gautam And VCC Studio's Pvt Ltd Co-Producers Sumit Tomar & Harshveer Shrivastava Director Harsh Vardhan Sanwal Story Screenplay Hari Vishnu Screenplay Dialogues Hari Vishnu & Anubhava Shrivastava Creative Director Hari Vishnu,  Jitendra S B, Sahith,   Editors   Vaibhav Chavan, Karan Singh Camera Crew K Murly,  Deepak Singh,   Music Meet, Project Designer Harshveer Srivastava  Production Universal Brothers Group Production House And Film House Cast   Vishnu Hari Main Lead, Prinka Singh Rajput,  Sarika Raghav, Unni. Ramesh Rao, Prakash R, Ankita Bhatt, Anchal, Rakhi   Himanshi, Vicky Abuja, Raaj Kaushik,   Amit Yada,   Anil Bardwaj, Pardeep, Ex Producer Sooraj Bharti, Production Manager Mayur Kumar, Deepanshu Tomar Films Diamond Singh Aam Aadmi As   Vishnu Hari Is Main Lead South Actor Recently Playing Diamond Singh Aam Aadmi Creators Topic Originally Base Film Completed And Releasing In Hindi Telugu Tamil Malayalam Marathi Top Very Close To Hindu Hearts. Vishnu Hari Has Worked On Four  Films I.E Some  Post Production And Shooting Schedules, Biggest  Film, "Mughals " And  Biopics Dr, Vijay Mallya Biography  And Tamil And Telugu Film "Checkmate Game Never Ends "And Veerappan Part 2 And The Producer Father Of the Film Industry  Upcoming All Films Soon.
If you have any objection to this press release content, kindly contact pr.error.rectification[at]gmail.com to notify us. We will respond and rectify the situation in the next 24 hours.