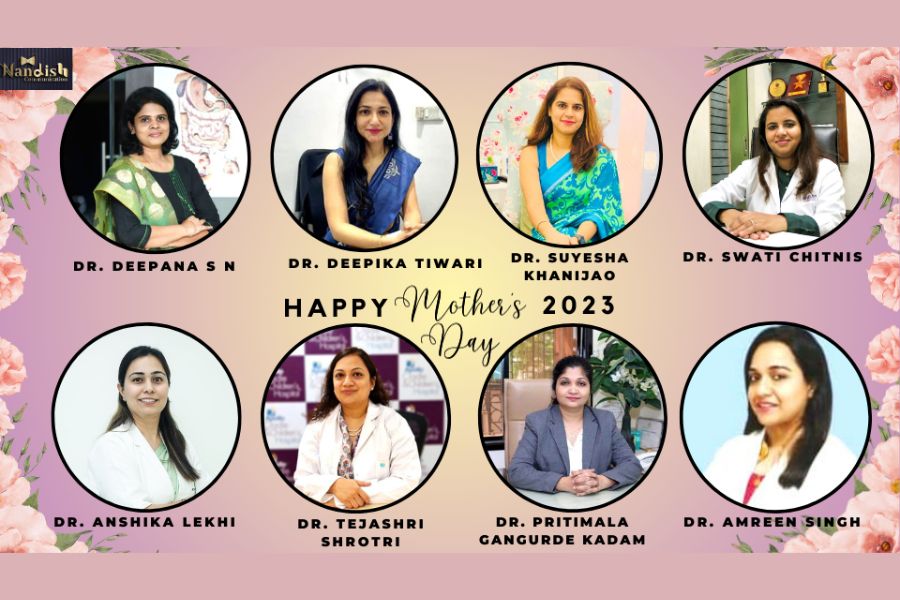 Top 8 Gynecologists Transforming Lives with the Gift of Motherhood
New Delhi (India), May 13: Mother's Day is a special occasion to celebrate the beauty and significance of motherhood, and for many aspiring parents, it is a day of hope and longing. Here, we have several gynecologists who have been gifted with the opportunity to help fulfil the dreams of countless hopeful parents. Through their dedication, expertise, and compassion, they have brought the joy of motherhood to those who longed for it most. As we honor the extraordinary mothers in our lives, let us also celebrate the tireless work of these gifted gynecologists who have helped bring the precious gift of life into the world.
Dr. Deepana S N, MBBS, MD, DNB (OG), One Care Medical Centre, Coimbatore
Dr. Deepana is a gynecologist with 15 years of experience and is full of positivity. She has attended to more than 5000 deliveries and consulted with 10,000 pregnant mothers, revolutionizing maternity care for Indian women beyond the hospital walls. Her book, "My First Pregnancy," is a must-read for new parents and is available on Amazon. She believes that reproduction is not just procreation, but an art and science of creating a healthy and happy future generation that is better than us.
She also showcases her love with her health food brand, "Great Bowl", yummy and nutritious weaning foods for babies and snacking porridges for new mothers, available on the website and Amazon. She has refused investments from investors, saying she is building this company with a purpose and not working for an exit anytime soon. She is determined to take investments only when she strikes a chord with an investor who shares her vision. In 2022, she was the recipient of the India Prime Unique Woman Icon Award. She says, "I haven't achieved anything so far, a long way ahead to build this nation's health holistically."
Dr. Deepika Tiwari,  MBBS, MS, Director of Obstetrics & Gynecology – Kimaya Healthcare,   Senior Consultant – Cloudnine Hospital, Gurgaon
The Gift of Child Birth is the greatest of all, and so is the journey. For a healthy child, we encourage all "Moms-To-Be" to adopt a healthy lifestyle, practice meditation, and surround themselves with an environment full of positive energy. Our Antenatal Program involves regular interaction with a gynecologist to discuss the full spectrum of pregnancy-related topics, including the right diet and exercise, as well as regular assessments through blood tests and ultrasound scans. With dedicated care, we have been able to achieve high rates of normal deliveries.
If you are in a dilemma about choosing the right doctor for your pregnancy journey, we encourage you to bring along family members and discuss your concerns. We believe that your gynecologist should be a good listener, a friend, and an advisor.
Dr. Swati Chitnis, MBBS, MS, DNB, Gynecologist & Laparoscopic Surgeon – Sarla Hospital & ICU, Mumbai
I have always been a rebel, never bothering to conform to societal norms. I was raised by strong, open-minded parents who gave me wings. My choice to be a gynecologist was purely driven by passion. I was drawn to minimally invasive surgery, a male-dominated field. I wanted to change the way women recover from surgery. I loved how technology could lessen pain and speed up recovery.
I am glad that I am able to assist women in improving their quality of life. Motherhood is tough and fulfilling, and this Mother's Day, I want to tell all mothers, "You are doing an amazing job. Never doubt yourself. Prioritize your health because a happy child is one whose mother is happy."
Dr. Pritimala Gangurde Kadam, MBBS, DNB (OBST & Gyne), MRM Rep. Medicine (London), PG dip. in Rep Medicine (Germany), Medical director – PEARL Fertility & IVF, Visiting consultant – Cloudinine Hospital & Apollo Fertility, Mumbai
A child is the beautiful imagination of a mother that takes shape in her womb and brings life to the world. Motherhood is a blessing from God and every woman dreams of becoming a mother. As an infertility specialist, I can feel the intense desire in every patient of mine. It is important for society to conceive the idea of a healthy mother and a healthy child, which will eventually lead to a healthy country. So let us take a pledge this Mother's Day to bring smiles to the faces of all the anxious women around us and help them successfully complete their difficult journey to motherhood.
What we need is to spread awareness about the unspoken pain of women and the advances in technology that can solve their problems. Please come forward and discuss your sufferings with your doctor. Because finally, a strong mother is a real strength of society! Happy Mother's Day to all!
Dr. Amreen Singh, MBBS, MD, ISAR Aspire Fellowship in Reproductive Medicine, Sr. Consultant, Fertility and IVF department, Yatharth Hospital, Noida
Motherhood is the most beautiful and amazing journey. Being an IVF and fertility specialist, I feel blessed that I am a part of the motherhood journey of many women. Every woman has a desire to become a mother, sometimes due to a few factors they are unable to conceive naturally. But with advanced medical science, there are many treatments and innovations like IVF, IUI, etc., which help to achieve their dream of being a mother! No woman should lose hope, as there is a ray of sunshine at the end of the tunnel. On this Mother's Day, I congratulate all the mothers and women who are on their journey of motherhood. Be strong, be hopeful, and be positive. "Being a mother is learning about strengths you didn't know you had."
Dr. Tejashri Shrotri, Senior Consultant OBGYN and Infertility Specialist, Fellowship in Reproductive Medicine, Director – Medfemme Women's Clinic, Delhi
"Motherhood is a gift that brings joy, fulfilment, and purpose to life. It's a journey of sacrifice, patience, and unconditional love that shapes us into the best version of ourselves. International Mother's Day is a time to recognize and honor the dedication and sacrifices of all the mothers out there, including those who are struggling with infertility. At Medfemme Fertility, we understand the challenges and emotions that come with the journey to motherhood, and we are here to support and empower you every step of the way. To all mothers, grandmothers, aunts, and sisters, thank you for the immeasurable impact you have on our lives. Your strength, love, and devotion inspire us every day. Happy Mother's Day!
Dr.  Anshika Lekhi, Chief Infertility & IVF consultant – Wings IVF, Delhi & The Fertilife, Gurgaon
I am a strong woman because a strong woman raised me. This Mother's Day, I want to thank both my mother and my daughters for showing me the essence of motherhood. Because of them, I understand the pain and suffering of my patients much better. I am really happy to be an infertility specialist because my profession gives me the pleasure and power of endowing the bliss of motherhood to other women who are struggling for it. A mother teaches you strength, and a child teaches you sacrifice and compassion. Motherhood is a beautiful journey, and I am truly proud to be a part of this journey for thousands of couples. A very Happy Mother's Day to all the mothers and mothers-to-be!
Dr. Suyesha Khanijao, IVF expert, Obstetrician & Gynecologist, Fellowship in Advanced Endoscopy, Fellowship in Reproductive Medicine,  ICOG Fellowship in Reproductive Medicine, Director – Angel's Hope Clinic A Unit of Sawan Neelu Angels Hospital, Delhi
The best feeling a woman feels is the feeling of giving birth and being called a mother. We, women, are designed in such a way that we can carry out many duties in our lives, and the most important one is being a mother. No one else in this world can understand us more than our mothers. The purpose of Mother's Day is to express love, appreciation, and gratitude towards mothers and mother figures for their unconditional love, support, and sacrifices.
Therefore, at Angel's Hope, I understand the emotions that come with motherhood and try my best to provide what our clients want. I do not want anyone to miss out on this beautiful feeling of motherhood, especially in the present-day scenario, where women are busy building their careers and planning late pregnancies. I counsel them on social egg-freezing so that they can still have the chance to become a mother. Here's wishing all the beautiful women a very happy Mother's Day!
If you have any objection to this press release content, kindly contact pr.error.rectification[at]gmail.com to notify us. We will respond and rectify the situation in the next 24 hours.