Mammoth Presence of Devotees Witness Historic Akshaya Tritiya Festival in precede of Acharya Shri Mahashraman Ji in Surat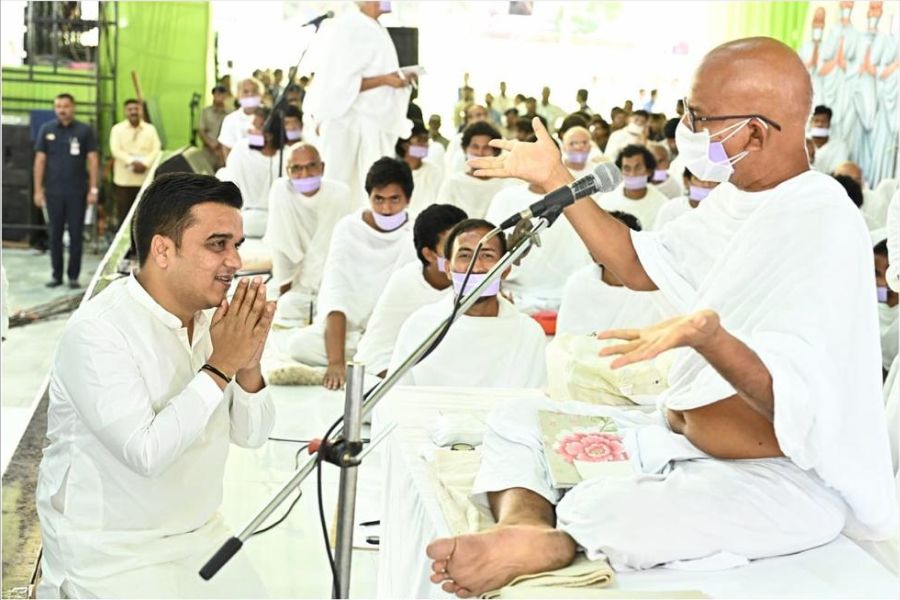 Surat (Gujarat) [India], April 25: About 1,151 ascetics have made a new record in the spiritual field on the pious day of Akshaya Tritya by donating Ikshuras or sugarcane juice in the character of Aaradhya in the auspicious presence of Yugpradhan Acharya Shree Mahashramanji, the messenger of Lord Mahavira and the 11th disciple of the Jain Shwetambar Terapanth Dharmasangh at the huge Mahavir Samvasaran built on the Bhagvan Mahavir University campus at Vesu on Sunday.
The grand Mahavir Samvasaran built for the Akshaya Tritiya Festival adjacent to the Bhagwan Mahavir International School in the Bhagwan Mahavir University campus witnessed a mammoth presence of devotees for the historic occasion.
Gujarat Home Minister Harsh Sanghavi and the who's who of the Jain community remained present at the occasion to seek the blessings of Acharyashree Mahashramanji and to witness the spiritual record by the 1,151 ascetics.
The program of the Akshaya Tritya festival started at about 8.15 am on Sunday, keeping in mind the huge presence of people and the ascetics. The programme started with the recital of Mangal Mahamantra. Terapanth Mahila Mandal-Surat sang the song after Acharyashree's Mahamantrochar. Sanjay Surana, President of Acharyashree Mahashraman Akshay Tritiya Pravas Samiti-Surat, offered his spiritual thoughts. Sadhvipramukhji, Chief Munishree and Sadhvivaryaji also addressed devotees and invitees.
Sadhvivarya and Sadhvi Sambuddhayashaji sang a self-composed song on the occasion of Akshaya Tritiya, and Sadhvi Pramukh Vishrutavibhaji also stressed the significance of Akshaya Tritiya while inspiring the people. Chief Munishree Mahavirkumarji sang a song written by Acharyashree that described Akshaya Tritiya and Lord Rishabh's life tale.
There are four paths to salvation: Mahashramanji, Acharyashree
On Akshaya Tritiya, famous ascetic Acharyashree Mahashramanji showered Akshay blessings on the ascetics Virat Janmedini and Varshitap, declaring that man learns sentiments via knowledge, faith through philosophy, restraint through character, and purification through penance. These are the four possible paths to salvation. Today is also Akshaya Tritiya or pleasant penance fulfilment day. The austerity of Lord Rishabh as the most ascetic, the highest Soul, is mirrored in the day of prosperity in the form of penance. Lord Rishabh was the present Avasarpini's first Tirthankara. Before becoming a Tirthankar, he conducted cosmic service. While living in the world, he taught the people in Ashi, Masi, and agriculture. He carried out his mission with worldly compassion and responsibility. A leader in society is essential to guide society in the right direction.
Lord Rishabh was a social and political leader. He was wealthy until he renounced everything, took Sannyasa, and became the master of religion. As soon as he retired, he started his penance. On this day one year later, Shreyanskumar gave him Ikshuras and performed Parana.
Akshaya Tritya also observes Donation Day. In his speech, a man should try to be as sweet as Ikshuras. Anyone who has done penance, whether within or outside the church, deserves to be honoured. While journeying to Vihar with the householders, the virtuous souls do penance during the rainy season, and the householders and charitable souls do prolonged penance throughout the rainy season, which is a once-in-a-lifetime event. Penance is quite important in the topic of meditation. Several rules have been developed for householders to follow during Varshitap. By adhering to those guidelines, the homeowner may accomplish more good. Everyone should talk about renewable pleasure and renewable energy.
Acharyashree paid tribute to revered minister Munishree Sumermalji Swami (Ladnun)
Paying tribute to his initiation provider Revered Minister Munishree Sumermalji Swami (Ladnun), on the fourth Mahaprayan Day, Acharyashree said that four years ago today, our initiation provider Minister Munishree had passed away in Jaipur. I pay my respectful tribute to him.
Gujarat Home Minister Harsh Sanghvi arrived at the ongoing program and received blessings.
Home Minister of Gujarat State, Harsh Sanghvi, also attended Acharyashree's auspicious ceremony. While paying obeisance to Acharyashree, he sat under the board with reverence while Acharyashree blessed him and said that efforts should be made to keep purity in politics. Politics should also try to get inspiration from the character of Lord Rishabh.
Home Minister Harsh Sanghvi, after receiving Acharyashree's darshan and blessings, expressed his feelings and said that a new history is created in Surat.  Ascetics from all over the country have come to the auspicious presence of the most revered Acharyashree Mahashramanji. I express my gratitude to Acharyashree for showing Surat such a view. May the inspiration received from you enter our lives as well, and bestow such blessings.
Ikshuras' donation programme went on for hours.
The process of donating Ikshuras by the ascetics started in the morning and continued for several hours. All the present 1151 ascetics performed Parana after receiving blessings from Acharyashree donated Ikshuras in Acharyashree's vessel. At the end of the program, the Akshaya Tritiya Festival of the coming year 2024, which will be organized in Aurangabad-Maharashtra, was inaugurated by the Akshaya Tritiya Arrangement Committee-Aurangabad.
Manhar Shankarbhai, Honorary of the Pravachan Pandal site, surrendered his feelings in front of Acharyashree and obtained holy blessings. The program of this grand event was concluded with the Mangalpath of Acharyashree.
New austerity history in Surat – In the history of Terapanth Dharmasangh, a new chapter of penance was established in Surat in Kirtidhar Acharyashree Mahashramanji's Mangal Sannidhi. Thousands of people watched it personally, and lakhs more saw it via Paras channel, Terapanth's YouTube channel, and other channels. This penance included 32 ascetics ranging in age from 12 to 25 years, as well as 24 ascetics ranging in age from 80 to 95 years. There were 18 ascetics among them who had finished their 25th year of penance. There were also two ascetics who had completed 48 years of penance throughout their lives. Bout 91 couples were also present who were part of the penance.
Muni Rajkumarji, Muni Komalkumarji, Muni Vardhamankumarji, Muni Puneetkumarji, Muni Nikunjkumarji, Sadhvi Kalpayshaji, Sadhvi Akshayprabhaji, Sadhvi Ruchirprabhaji and Samani Swarnapragyaji completed their respective rituals in Acharyashree's Mangal Sannidhi Gurukulwas.