Maharashtra Class Owners' Association (MCOA) Teacher's Day Celebration was a mix of Awards, Recognition, Networking and Performances
Mumbai (Maharashtra) [India], September 21:  Formed in the year 2000, MCOA (Maharashtra Class Owners' Association) is a non-profit making association of Coaching Class Owners and Educators in Maharashtra formed with the intention to bring all coaching class owners under one roof & fight for their problems. This year, Maharashtra Class Owners' Association (MCOA) organised its annual Teacher's Felicitation Function on 17th September at Sri Shanmukhananda Chandrasekarendra Saraswathi Auditorium, Sion to felicitate school principal, senior professors, authors, NGOs and senior industry personnel who have rendered noble services for more than 30 years in Education and to the society at large. More than 1800+ class owners from Maharashtra were present at the event which opened the gates for MCOA to enter OMG Record books for the biggest gathering of teachers in Asia's one of the largest auditorium.
Dr. Jitendra Adhia (Mind Trainer / Life Coach, Founder – Guni Guru) was the Chief Guest and Dr. Chinu Agrawal (Renowned Psychologist & Psychotherapist, Trustee & Research Head – HEMA Foundation, Director – Feeling Minds) and LT Col Rohit Mishra (Served in the Indian Army for more than 2 decades, Founder & Director of Mission Fightback) were the Guest of Honors for the event.
To name a few other esteemed Guests and eminent personalities who were present at the event were Prof. JK Shah, Chairman, JK Shah Classes; Mahendra Kabra, Chairman & Managing Trustee, HEMA Foundation and Joint Managing Director, R R Global; Jagdish Walawalkar, Founder President, MCOA; Sachin Karnavat, Ex-President, MCOA; Prajesh Trotstky Vice President, Rajesh Kasat, Secretary, MCOA;  Bhupendra Singh, Treasurer MCOA, MCOA Committee members Dilip Singh, Pradeep Agarwal, Virchand Maisheri, Vijay Gupta, Bina Sutar were present amongst others.
1800+ class owners attended the event this year with joy and participated actively which boasted the energy of the celebration. The Celebration was a mix of Awards, Recognition, Networking and Performances. Singer Munawar Ali gave a special performance that enthralled the audience.
"At the Association level, it's our constant endeavor to give the best to our fellow class owners and members by conducting knowledge series/ seminars/ workshops and training programs on a regular basis which in turn benefit the students at large. MCOA works parallel with the education system, supplementing and complementing the mainstream Education and are detrimental in providing the best to the young generation." Said Santosh Vaskar, President, MCOA.
"We are a strong community of Coaching Class Owners involved in shaping generations and building the nation. We are happy to witness 1800+ class owners gathered at one place to felicitate senior industry personnel who rendered service for more than 30 years in Education and also we are proud to enter OMG Record books for the biggest gathering of teachers in Asia's biggest auditorium." Santosh Vaskar added.
"MCOA is the Voice for Coaching Class Industry. We will be forming an NEP Task Force to integrate NEP into the Coaching Classes Industry. The same Task Force led by MCOA will approach the Maharashtra Government's Education Ministry and extend support in forming the syllabus, developing strategies for Implementation etc. The expenditures of the Task Force in helping the Ministry will be incurred by MCOA." Said Prajesh Trotsky, Vice-President, MCOA.
"Keeping in mind the 5 Capacity building skills prescribed by NEP that are Cognitive capacity, Emotional capacity, Ethical Capacity, Social Capacity and Life Skill Capacity, MCOA in Collaboration with Hema Foundation will work on Implementing Human Values in students through Coaching Classes. We are committed to the betterment of the education system."  Prajesh Trotsky added.
Discussion on Upcoming Initiatives was also held at the event: NEP Task Force, EduExpo Exhibitions, Career & Job Fairs, Workshop on Generative AI (prompt Engineering) for Coaching Class Owners and Teachers to help them as a tool in teaching. Workshop on Understanding and Handling the Generation Z.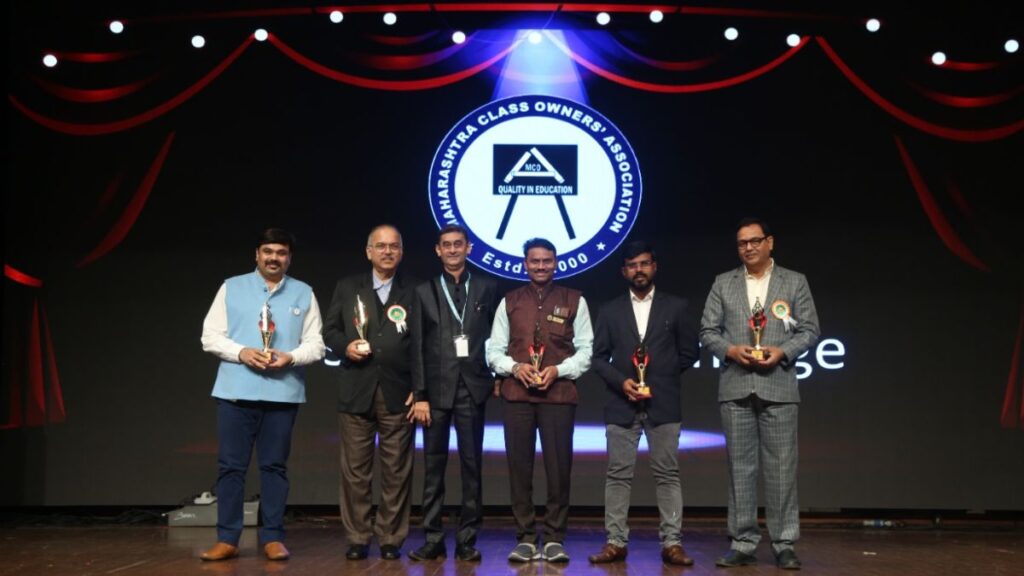 The following people were awarded from each section:
School Section – TR. Baban Tukaram Chavan; TR. Shyam Narayan Pathak; TR. Bajirao Rau Kadam
Arts Section – Dr. Poornima Iyer; TR. Ravi Dharma; TR. Jyoti Raju Khote
Commerce Section – DR. KUMARASELVAN ESWARAVEL; TR. Shailen Priti Nikhil Gosalia; TR. Bharat K Doshi.
Science Section – Tr. Poornima V; Dr. Guru Balan
Other Boards Section – TR. Dimple Tushar Sonigra (ICSE); TR. Kavita Pankaj Dedhia (CBSE)
Out of Mumbai – TR. Narayan Prasad Sharma
LIFETIME ACHIEVEMENT – Shree Simson Kochan; TR. Dattaram Ramchandra Kadam
NGO Category – Hema Foundation
About MCOA
Established to bring all coaching class owners under one roof & fight for their problems. The Association is at the forefront in taking up matters with the Education Minister like paper leaks, wrong questions, clashing timetables, exam center etc. The Committee put forth views to the government on issues like Colleges involved in Capitation, Reduction of GST, Integrated coaching, Copyright act, Regulation bill by Govt. for coaching classes
For more information, kindly visit the website www.classowners.com
If you have any objection to this press release content, kindly contact pr.error.rectification[at]gmail.com to notify us. We will respond and rectify the situation in the next 24 hours.