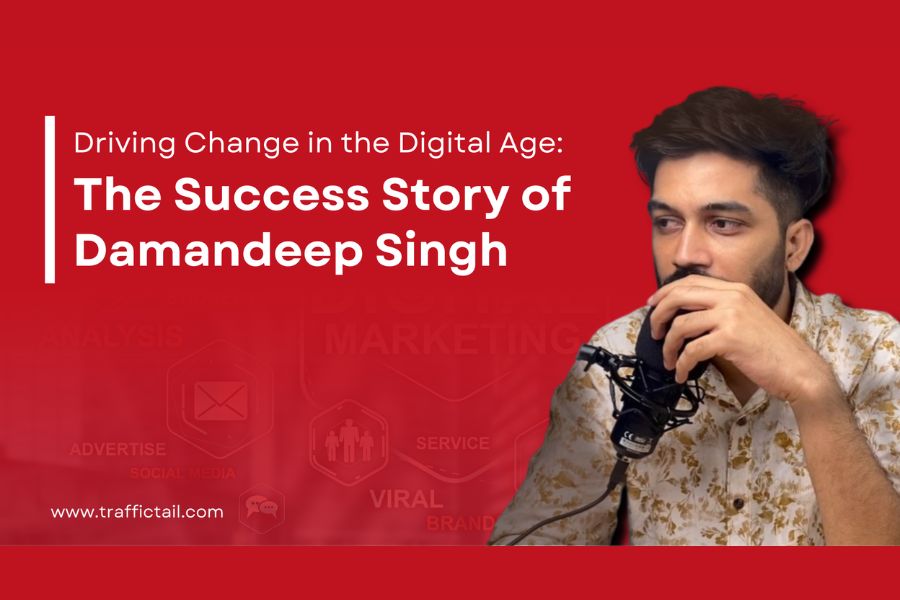 Damandeep Singh: Founder of Traffic Tail & 7k Network
New Delhi (India), April 17: Meet Damandeep Singh, a passionate young businessman who is changing the face of digital marketing! He founded Traffic Tail, a highly successful digital marketing firm that provides a wide range of services to startups and organizations thanks to his extraordinary talent and leadership abilities. Traffic Tail has grown into a significant source of employment chances for several young individuals eager to make their mark in the digital marketing sector as a result of his substantial knowledge and expertise in the field.
After completing his engineering degree in Uttar Pradesh, Damandeep knew that he wanted to pursue his passion for digital marketing, but he needed to find new opportunities to do so. That's when he made the bold decision to move to Delhi, where he quickly established himself as an expert in the field. His competence has been acknowledged by a famous institute in Delhi, where he has worked as a trainer and shaped the careers of upcoming industry experts.
Several of his students have gotten commendable careers in prestigious firms like Hubspot, Accenture, and TCS as a result of his dedication to teaching. A number of people have also launched their own enterprises. With his passion for education and advancement, Damandeep has helped over 1,000 students discover their potential in the marketing industry and become fit for various job roles.
The story behind the Start of Traffic Tail
Amid the COVID-19 pandemic, when the world was struggling to adapt to the new normal, Damandeep noticed the problem faced by citizens while connecting with the government to get necessary services. He also noticed that many startups were facing trouble while utilizing digital marketing technologies in their business. He decided to use his extensive marketing and social media experience to provide businesses with much-needed support.
Traffic Tail is the result of his efforts to support new enterprises and startups. He has completed over 2,000 projects through his business, Traffic Tail, demonstrating his remarkable leadership abilities and capacity to integrate his domain knowledge with his marketing know-how. Traffic Tail offers a broad selection of digital marketing services to meet the needs of customers in a variety of industries, including real estate, music, education, and more, ranging from SEO and website design to PPC and social media marketing. But it's not just the quality of services that sets Damandeep apart from his competitors; it's his unwavering commitment to client satisfaction.
Traffic Tail has enabled several companies to succeed in the online marketplace by offering cutting-edge digital marketing services. The devotion of Traffic Tail's leader to providing individualized solutions that are tailored to each client's particular demands, however, is what truly distinguishes them from their competitors. As a result, they have been able to increase the number of places where they provide services to their clientele, including Delhi, Allahabad, Gorakhpur, Lucknow, Gwalior, Surat, Chandigarh, and others.
USP of Traffic Tail
He has grown Traffic Tail from a small team of three to a thriving company with over 50 outstanding professionals because of his extensive awareness of the sector and passion for innovation. The key to Damandeep's success is his consistent dedication to providing great and valuable services that set his company apart from competitors. But he doesn't stop there; he also understands the value of continual client service, which has turned into Traffic Tail's unique selling point. Traffic Tail has become a leader in the world of digital marketing as a consequence of his remarkable management skills and commitment to excellence.
7K Network: Elevating Digital Journalism with Damandeep's Revolutionary Platform
Along with being the founder of Traffic Tail, Damandeep Singh is also the brains behind the revolutionary platform 7K Network, which strives to support digital journalism and elevate upcoming journalists. Damandeep has mentored about 2000 journalists through the 7K Network so far, helping hundreds of young people advance their careers. Young journalists now have a platform to inform the public about the most recent developments in their areas thanks to the affordable ability to build their own news websites. He has changed the landscape of digital media with his unmatched expertise, making it more inclusive and accessible to all.
Damandeep Singh's approach to customer satisfaction is truly remarkable. He firmly believes that customer feedback is essential for any successful business and makes it a point to interact with them directly. In his opinion, customer satisfaction is the cornerstone of any flourishing company. His team at Traffic Tail offers a variety of services, including website creation, social media management, SEO, PPC, video marketing, branding, and more, to make sure their clients receive the finest care possible.
That's not all, though. His in-person classes are made to equip students with the knowledge they need to thrive in today's cutthroat business environment by assisting them in understanding the complexities of digital marketing. Damandeep's commitment to excellence is reflected in every aspect of his work, from the exceptional quality of services provided by Traffic Tail to the comprehensive training offered through his in-person courses.
The future appears more promising than ever for Traffic Tail and 7K Network as they continue to grow and broaden their reach. Damandeep's leadership and vision will undoubtedly continue to fuel these companies' success, and his success story is proof of the value of perseverance, hard work, and dedication to having a positive impact on the world.
If you have any objection to this press release content, kindly contact pr.error.rectification[at]gmail.com to notify us. We will respond and rectify the situation in the next 24 hours.