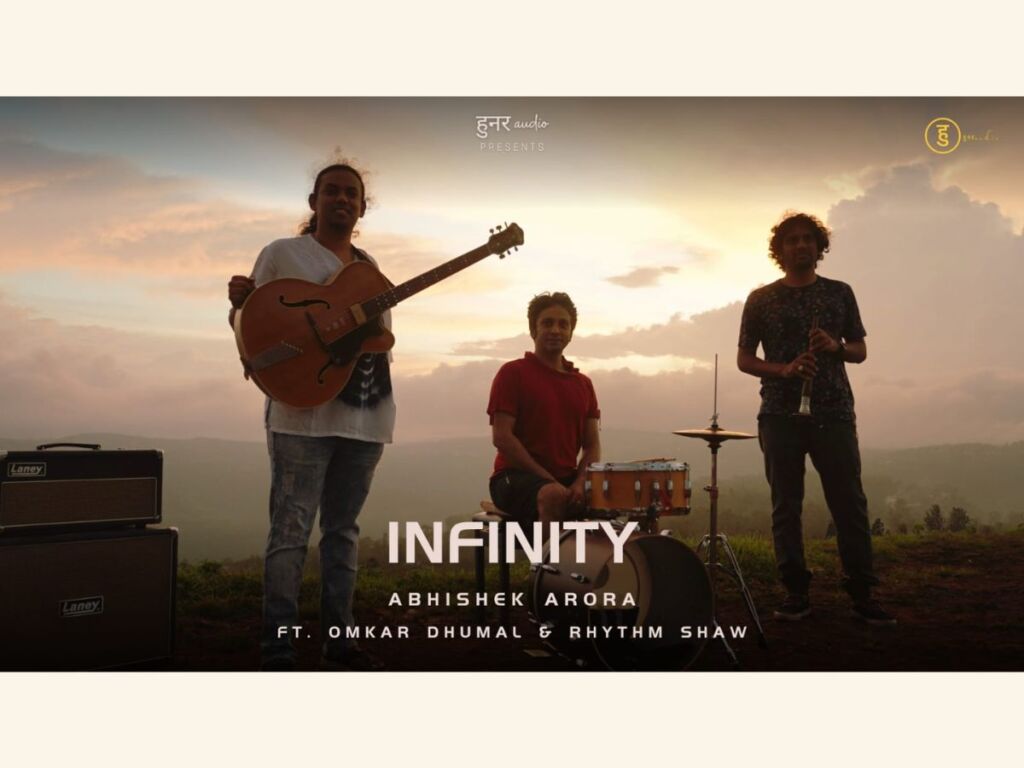 New Delhi (India), May 15: Infinity is a musical project that brings together two traditional instruments, the Shehnai and the Guitar, to create an instrumental track that is both soothing and soulful. The project is the brainchild of Abhishek Arora, a talented composer, drummer, and producer, who has collaborated with Shehnai player Omkar Dhumal and guitarist Rhythm Shaw to create a unique musical experience.
Omkar Dhumal, who has been playing Shehnai since the age of 13, is a highly accomplished musician with a passion for both world music and Hindustani classical music. In an interview, he spoke about how he became interested in playing Shehnai, his creative process for Infinity, and his hopes for the future of the instrument in contemporary music.
Dhumal's involvement with Infinity began when Abhishek Arora played a beautiful piano riff that inspired him to create a lazy trumpet solo sound for the Shehnai parts in the track. The result is a tranquil soundscape that is entirely instrumental but filled with emotion. For Dhumal, Infinity represents an opportunity to showcase his musical approach and imagination, and he hopes that listeners will experience the same sense of calm and serenity that he feels when playing the Shehnai.
Rhythm Shaw, a guitarist who has worked with Abhishek Arora on several commercial projects, also spoke about his involvement in the Infinity project. Shaw describes Arora as an incredible composer and drummer with a keen sense of time, nuances, and texture. When recording the guitar parts for Infinity, Shaw drew from a mixture of genres and styles to create a sound that served the song.
Working together, Arora, Dhumal, and Shaw have created a musical collaboration that is a true masterpiece. They have blended the unique sound of the Shehnai with the melodic lines of the guitar to create a track that is both beautiful and soothing. With Infinity, the trio hopes to showcase the potential of traditional instruments in contemporary music and inspire a new generation of musicians to explore these sounds.
In addition to his work on Infinity, Dhumal is currently focused on creating original Shehnai compositions in both world music and Hindustani classical genres. His latest project, 'Mahol,' is a world music endeavour that aims to present the Shehnai in a unique and unconventional manner. Dhumal is also exploring the art of crafting Shehnai as part of his research fellowship and hopes to share his instrument-based tracks in the near future.
For Shaw, his involvement in the Infinity project is just the beginning of his musical journey. As a guitarist, he continues to draw inspiration from a range of genres and styles and is constantly exploring new sounds and techniques.
In conclusion, Infinity is a beautiful collaboration between two talented musicians who have come together to create a sound that is both unique and soulful. It showcases the potential of traditional instruments in contemporary music and inspires a new generation of musicians to explore these sounds. With Omkar Dhumal's Shehnai and Rhythm Shaw's guitar, Abhishek Arora has created a musical masterpiece that will surely be remembered for years to come.
If you have any objection to this press release content, kindly contact pr.error.rectification@gmail.com to notify us. We will respond and rectify the situation in the next 24 hours.