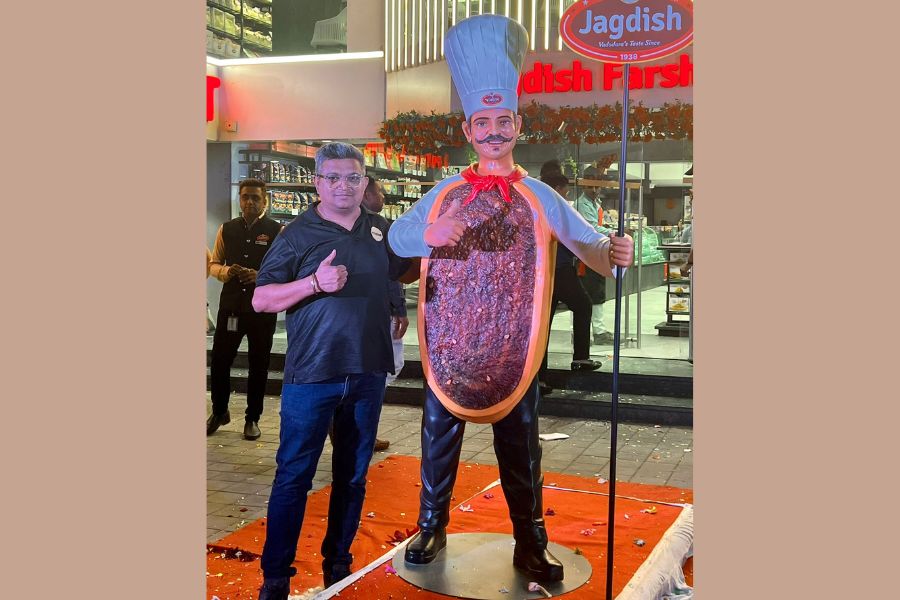 Chef Jaggi is the brainchild of Inhouse, a Vadodara-based design and branding consulting company.
New Delhi (India), April 1: Jagdish Farshan, the name synonymous with premium quality farshan and sweets for more than eight decades, has launched its mascot, Chef Jaggi.
A brainchild of Vadodara-based design and brand consulting company Inhouse, which has been managing the branding of Jagdish Farshan for the last seven years, Chef Jaggi was launched last week. Inhouse played a pivotal role in branding excellence from ideas to execution and strategy to management standpoint.
Chef Jaggi is now officially the mascot for Jagdish Farshan, representing the iconic and world-famous bhakharwadi. Jagdish Farshan's customers have 100 reasons to know, remember and choose Jagdish Farshan, and with the launch of Chef Jaggi, they have one more.
"It is a matter of great pride and honour for all of us at Inhouse to be a part of this remarkable milestone for Jagdish Farshan. I am so glad that the ingenious concept of choosing a mascot as the face of the brand struck the right chord and Chef Jaggi came to fruition. Chef Jaggi symbolises authenticity, quality and innovation, the very values that have contributed to Jagdish Farshan becoming synonymous with the best quality snacks and sweets for the last 84 years," said Keyur Patel, Founder and MD of Inhouse.
Coming up with a mascot for a prominent brand like Jagdish Farshan, which has a rich legacy and a vast loyal customer base, was not easy.
"To give an interesting spin to the visual and marketing evolution of a brand that has evolved over several decades needed a creative solution of a new level altogether. We worked on a rollercoaster ride of ideas, options, sketches, drafts and versions that ultimately resulted in the final version that is Chef Jaggi. We felt the name also ticks the right boxes and adds a new identity to Jagdish Farshan to help it stand out against other brands with similar names and identities," explained Mr Patel.
Inhouse collaborated with artist Kanan Asher for the physical manifestation of Chef Jaggi's impressive avatar.
"I express my sincere gratitude to Kanan Asher for bringing the idea to life. I also thank Kalpesh Kandoi, Neeta Kandoi and Aakash Kandoi for entrusting us with such a prestigious and crucial task," added Mr Patel.
If you have any objection to this press release content, kindly contact pr.error.rectification[at]gmail.com to notify us. We will respond and rectify the situation in the next 24 hours.