Dr. Hetal Tamakuwala, a Surat dentist and mother of two, won the Ironman Triathlon in Malaysia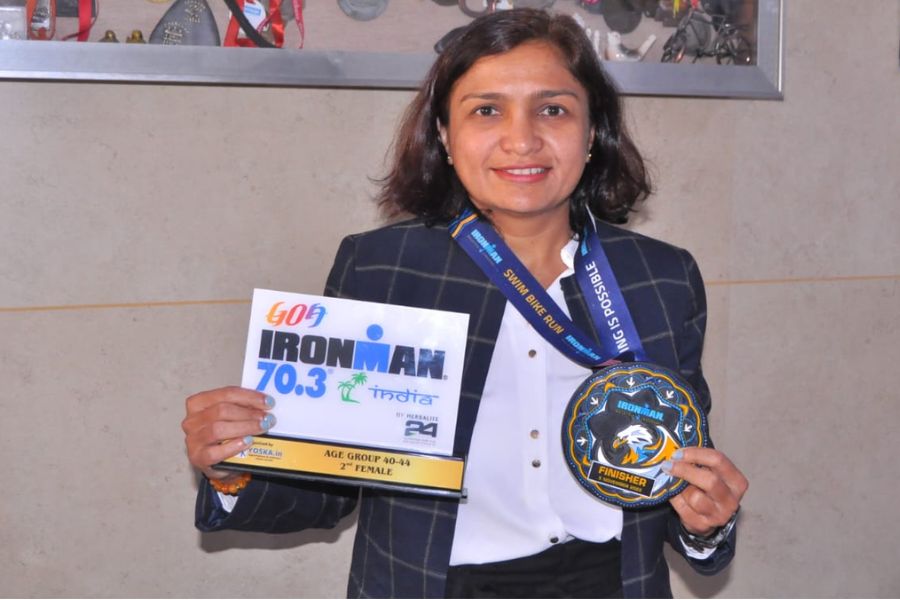 Surat (Gujarat) [India], April 7: When Dr. Hetal Tamakuwala is not providing dental care, she is likely to devote her time to physical activities such as cycling, running, or swimming, possibly in preparation for an upcoming competition. Dr. Hetal, a dental professional who runs the 'Dr. Hetal's Advanced Dentistree' clinic in Surat's Pal-Adajan, has long participated in triathlons. She completed the gruelling Full Ironman triathlon in Malaysia and finished 10th overall, bringing Surat, Gujarat, and the country to international prominence. Dr. Hetal has become the country's first female dentist, India's ninth female athlete, and Gujarat's second to complete the Iron Man Triathlon.
Dr. Hetal's year-long commitment to intensifying her training regimen culminated in the arduous triathlon, which included a 3.8 km swim in the sea, 180 km cycling, and a full 42 km marathon run. The Iron Man tasks were supposed to be completed in 17 hours, but Dr. Hetal completed them in 15 hours and 40 minutes, placing her 10th in the world.
Surat, known throughout the world as a diamond and textile city, is now making its mark in the field of sports as well.  Many sports personalities from the city have made Surat, Gujarat, and the country's names shine at the international level through their energetic performances.
Hetal Tamakuwala said she never imagined 10 years ago that she would one day complete the gruelling Full Iron Man Triathlon. "I won a silver medal in a two-kilometer race in Surat ten years ago." This success sowed the seeds of my desire to become an athlete in me.  Since then, I've been putting in long hours of practise in order to become a medical athlete.  I used the "Rule of 7″ for this, which means 7 hours of clinical practice, 7 hours of competition training, and 7 hours of sleep in a day."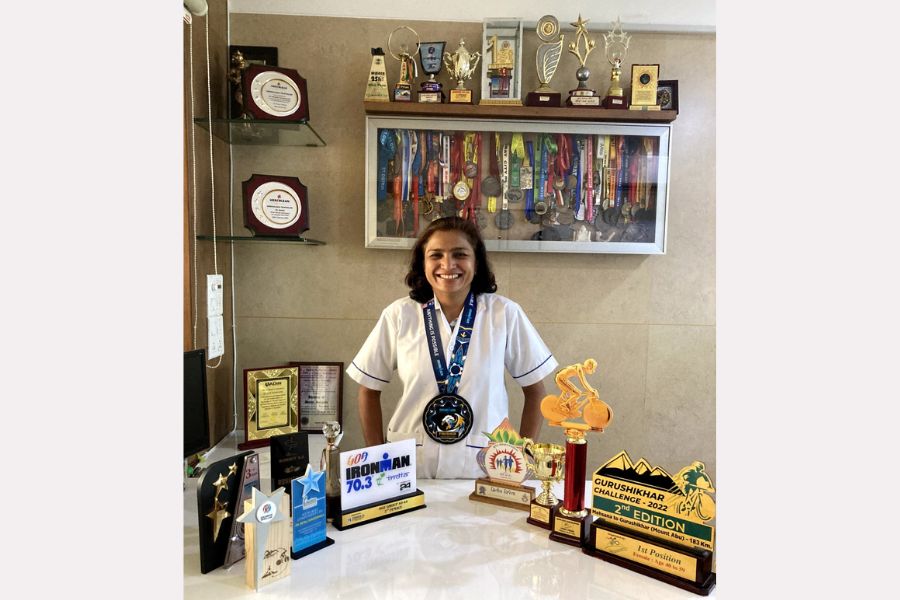 Dr.Hetal took up swimming practise in the Tapi river and Causeway, as well as the Surat District Cricket Association (SDCA) swimming pool at Lalbhai Contractor Stadium in Piplod, because the Full Iron Man Triathlon requires swimming in the sea. She chose to ride from Surat to Saputara and Surat to Dang for cycling practice, as well as some routes in Surat city.  Winning the Iron Man title and accomplishing all of this would not have been possible without the family's support and the coach's guidance.
"From the beginning, I have had the moral support of my husband, Dr. Deepak Tamakuwala, and sons, Dr. Dhruv and Devansh; swimming coach Jignesh Sarang Sir and cycling coach Tarak Shah Sir gave me valuable advice. A special thanks to Vishal Cycle Agency for providing with all the gears & equipments whenever required. This achievement was a result of culminative support from my family & coaches." says Dr. Hetal Tamakuwala
Dr.Hetal is the first female athlete from Surat to have completed five events, in addition to successfully completing the Full Iron Man Triathlon in Malaysia.  She finished the Full Iron Man Triathlon in Malaysia on November 5, 2022; and the Half Iron Man Triathlon in Kolhapur on October 2, 2022, earning another prize.  She then finished second in the Half Iron Man Triathlon in Goa on November 13, 2022.  She then competed in the Guru Shikhar Challenge on January 1, 2023, cycling uphill 183 kilometres from Mehsana to Mount Abu to Guru Shikhar and finishing first. On February 25, 2023, she won the Full Iron Man Triathlon at Konark being solo female finisher.
Dr. Hetal is unstoppable, even after suffering five fractures.
Any athlete must put in a lot of practise time.  Dr. Hetal Tamakuwala understood this so well that she had accidents five times during practise and fractured her bones at various times, but after recovering, she continued to practise and, without losing courage, she continued to move forward to achieve her goal.
If you have any objection to this press release content, kindly contact pr.error.rectification@gmail.com to notify us. We will respond and rectify the situation in the next 24 hours.