Dr APJ Abdul Kalam founded Lead India Foundation-World Book of Records honour Egalitarian Earth Warrior Dr. Anusha Srinivasan Iyer among India's 111 Most Powerful Women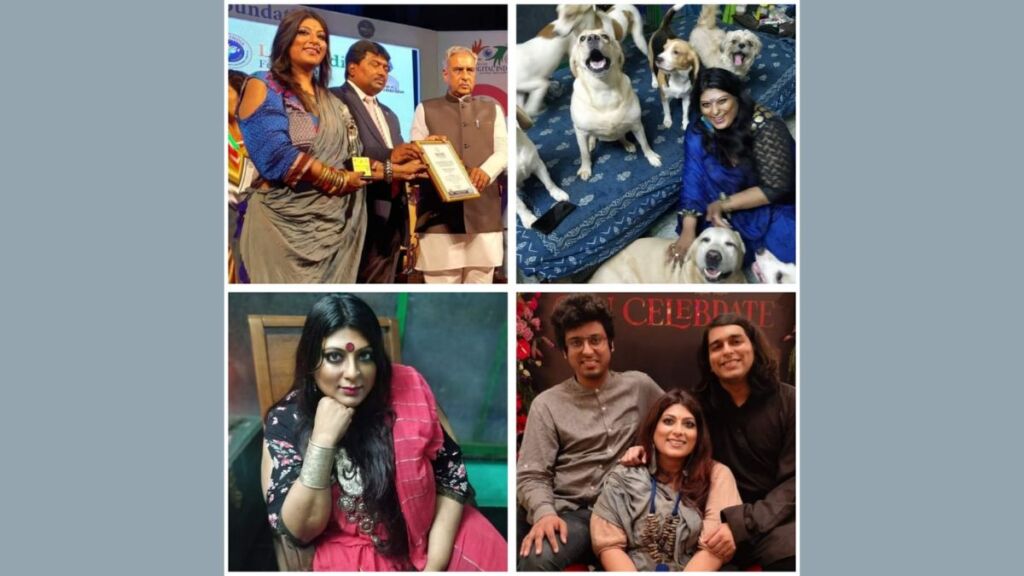 Lead India Foundation, whose Chief Mentor was the Late Dr. A.P.J. Abdul Kalam, the renowned aerospace scientist who served as the 11th President of India with the vision for the youth to Be the Change for Nation Development as a vision for the new millennium, recently set a World Record with The World Book of Records at Town Hall, Bengaluru when it honoured An Egalitarian Earth Warrior Dr. Anusha Srinivasan Iyer among India's Most Powerful 111 Women of India.
Lead India Foundation President Dr. Hari Krishna Maram created a World Book of Record by honouring 111 Power Women, including IAS, IPS, IRS, IFS, KAS officers, film celebrities, industry leaders, NGO leaders, and sports personalities, among others 111 minutes.
A sought-after Writer, Director, Media Strategist, sought-after TEDx speaker, Life Coach, Social Entrepreneur, Gender-Animal and Environment Activist, and one of the driving forces behind the Make Earth Green Again MEGA Foundation, Pawsitive Farm Sanctuary, and Zindagi Helpline, Dr. Anusha Srinivasan Iyer is a woman of multiple facets!
Best known as a Firebrand Journalist with a golden heart, Dr. Anusha Srinivasan Iyer is also in the news as a Global Award-winning Writer-Director with 'Saare Sapne Apne Hain', her film on child labour, hope and happiness, starring Vedant Gill and produced by Siddhant Gill and Krishnaveni Srinivasan and Ramachandran Srinivasan, has won rave reviews across borders winning over 128 awards and having been screened in over 150 national as well as international film festivals!
Dr. Anusha Srinivasan Iyer's organisation, Make Earth Green Again, MEGA Foundation, strives to protect the planet. With the mission to reverse the environmental damage caused by mankind. She, in her myriad ways, not only repaints the Earth green but also mobilises and inspires the youth to stand up for the same!
Serving as a catalyst in bringing responsible like-minded individuals, environmental activists and organizations together, Anusha works closely in association with the government and its ministries for citizen welfare. She is also known for her stance on the issues of tribal welfare, senior citizen safety, rehabilitation of acid attack victims and her work towards gender equality, LGBTQ empowerment, street children welfare, participation in conclaves and inspirational talks, filmmaking with a cause and youth life coaching among many others.
Anusha Srinivasan Iyer has also earned respect for her commitment towards social, environmental as well as cultural causes. For the same, she received numerous awards, accolades and recognition as the winner of the Life's Real Heroes awards of India in 2019, The Economic Times Icon Award for Strategic Brandmaker and Social Entrepreneurship, acknowledgement as the ET Rising Indian by The Economic Times, The  Mid-Day Icon Awards,  christened as the "Queen Bee of Brand Strategy" by Forbes India among others. She is also the recipient of the International WEE Women Excellence Empowerment Award,  National Excellence Award, Women of Influence Award, People's Excellence Award, Inspire Award, Mukkti Foundation Achievers' Award for Animal Welfare, Mid-Day Powerful Woman Award for Brand Custodianship& Image Strategisation,  Dadasaheb Phalke Film Foundation Award, Main Hoon Beti Award, Samaj Ratna Award, Dadasaheb Golden Camera Award,  Iconic Achievers Award, Perfect Achievers' Lifetime Achievement Award for Brand Custodianship and Image Strategisation, Haryana Garima Award, Karmic Awards, Gurugram Achievers Award, Egalitarian Earth Warrior Award at the National Summit of Holistic Sciences, and has been felicitated by MAEER's MIT Pune for her social consciousness and has been acknowledged with The National Wellness Award by The Shree Swami Samarth Annakshetra Trust, Akkalkot.
Other laudable initiatives include animal rescue through Pawsitive Farm Sanctuary, which has opened its doors to over 119 rescue cats and dogs, besides feeding thousands and laying the foundation for a farm sanctuary across six acres. Pawsitive Farm Sanctuary has gracefully graduated from being a small home to a haven, a sanctuary for every animal in need of a helping hand. Besides old, maimed, abandoned and amputated cattle and rejected calves that will be housed in a Gaushala, there will be ample space for senior donkeys and horses to graze and live in happiness. The foundation also plans to expand to wild animal rescue and rehabilitation in the future.
Anusha, through her auto-heal group Zindagi Helpline, armed by professionals and empaths alike, holds hands with depressive and suicidal patients and has taken care of over 168 people since Sushant Singh Rajput's suicide.
On her work front, Anusha Srinivasan Iyer is the Founder and Mentor of Naarad PR & Image Strategists, one of India's premier PR, Brand Strategisation and Image management agencies, besides being the Brand Custodian of respected actors.  A  strong believer that if you want to do something, you make time for it, Anusha also writes and directs films as well as pursues a fruitful life of social activism.
"A Developed India is not just a dream or a mere Vision in the mind of every Indian, but it is a Mission we all need to take up and succeed,"
Dr. A.P.J. Abdul Kalam, while elucidating his vision for India in the new Millennium, stated. Looks like Lead India Foundation, by honouring such inspiring women, is living up to its name by being the change this millennium.
For more information, visit: https://www.instagram.com/naaradanusha/?hl=en
If you have any objection to this press release content, kindly contact pr.error.rectification[at]gmail.com to notify us. We will respond and rectify the situation in the next 24 hours.