Digital Edge Sets its Sights on Europe: Expanding Horizons with Proven Digital Marketing Strategies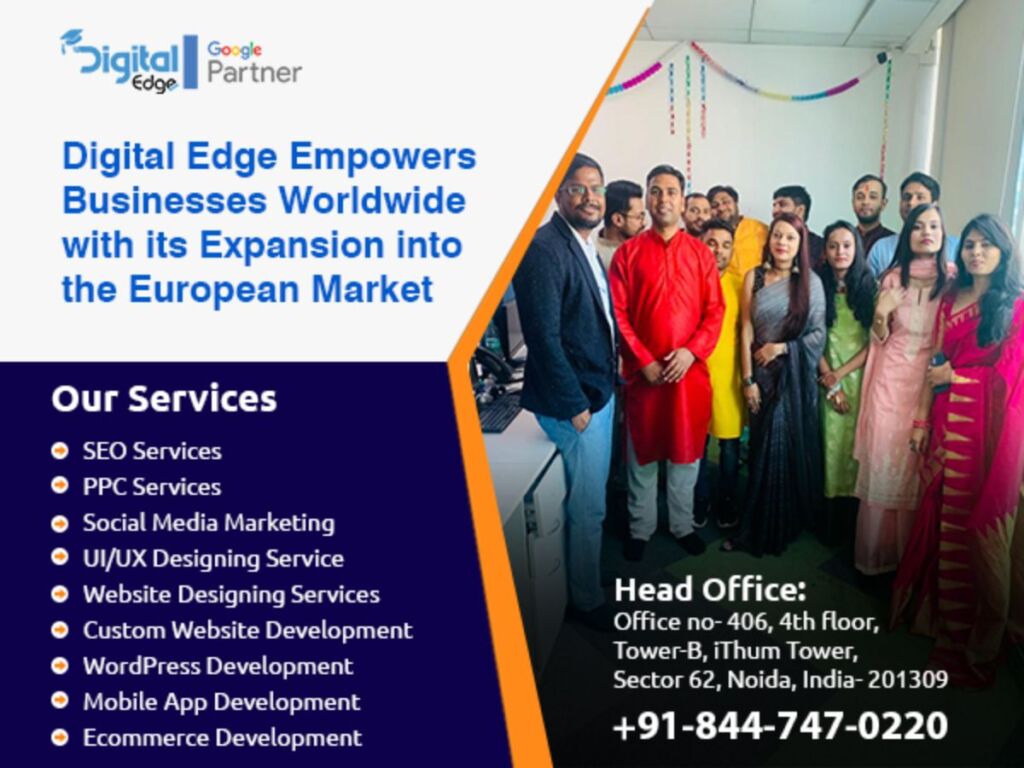 Digital Edge expands into Europe, empowering businesses worldwide
New Delhi (India), May 24: Digital Edge, a prominent digital marketing agency based in India, is thrilled to announce its strategic expansion into the European market. This move marks a significant milestone for the brand as it aims to bring its expertise and proven strategies to clients in Europe, empowering businesses globally with result-oriented digital marketing solutions.
As a leading player in the digital marketing industry, Digital Edge has experienced remarkable growth and success. With a high client base of over 8,700 satisfied customers, the agency continues to thrive in the dynamic world of digital marketing. In addition, Digital Edge offers a complete range of professional services designed to help businesses succeed in the digital realm.
Digital Edge's impressive growth and success can be attributed to several key factors. Firstly, the agency has achieved a minimum year-on-year increase of 40%, showcasing its ability to deliver exceptional results consistently. This remarkable growth reflects Digital Edge's commitment to excellence and its strong position in the digital marketing industry.
One of the hallmarks of Digital Edge's success is its outstanding client retention rate of 80%. This speaks volumes about the agency's dedication to client satisfaction and its ability to build long-term partnerships. Many clients have chosen to stay with Digital Edge over the years, a testament to the trust, value, and exceptional service they receive. The agency takes pride in nurturing these relationships and consistently exceeding client expectations.
Digital Edge's track record of executing successful campaigns further reinforces its position as a leader in the digital marketing industry. The agency's expertise, data-driven approach, and advanced technology have enabled it to drive tangible results for clients, focusing on ROI and delivering meaningful business outcomes.
"We are excited to ignite digital transformation with a spark of creativity and a passion for pushing boundaries. At Digital Edge, we firmly believe in the power of innovative strategies, cutting-edge technology, and a relentless pursuit of excellence. Our expansion into the European market marks a significant milestone for us, and we are enthusiastic about establishing a strong foothold in this region. As we look ahead, we remain committed to innovation, continuously refining our strategies, and staying at the forefront of industry trends. Our unwavering dedication to delivering exceptional results and exceeding client expectations will drive us to become a leading player in the global digital marketing landscape." shared Pankaj Dhingra, CEO of Digital Edge.
Pankaj Dhingra added, "Empowering the digital pioneers of tomorrow, Digital Edge leads the way with comprehensive training programs that have transformed the lives of over 15,000+ students. Our online marketing trainer, equipped with the latest knowledge and expertise in digital marketing strategy, ensures a cutting-edge learning experience. Backed by a team of certified professionals from Google, Hubspot, and Semrush, we deliver the finest digital marketing course training in Noida. Our unwavering focus lies in shaping our students' careers and paving their path to success. To provide hands-on exposure, we offer an immersive 1-3 months internship program on live projects, allowing our future marketers to gain invaluable real-time experience. Join us and unlock your potential in the digital realm."
Digital Edge's expertise extends across various sectors, catering to a diverse range of industries. Whether it is e-commerce, healthcare, technology, finance, education, real estate, or more, the agency has successfully implemented tailored strategies for clients in these sectors. This versatility and ability to understand the unique requirements of different industries have been instrumental in Digital Edge's growth and reputation.
Digital Edge's key service portfolio includes:
–SEO Services: Enhancing search engine visibility to drive organic traffic.
–PPC Services: Creating and managing targeted pay-per-click campaigns for maximum ROI.
-Social Media Marketing: Engaging audiences and building brand presence on social platforms.
-UI/UX Designing Service: Crafting intuitive and visually appealing user interfaces.
-Website Designing Services: Building eye-catching and responsive websites.
-Custom Website Development: Developing tailor-made websites to meet specific business needs.
-WordPress Development: Creating dynamic and scalable websites using the WordPress platform.
-Mobile App Development: Building innovative mobile applications for iOS and Android platforms.
-Ecommerce Development: Designing and developing robust ecommerce platforms for online businesses.
The industry has recognized Digital Edge's outstanding performance and innovation through various prestigious awards. These accolades highlight the agency's commitment to excellence, creativity, and delivering impactful digital marketing solutions. Furthermore, Digital Edge has formed partnerships with industry giants such as Google, Bing Ads, HubSpot, and Facebook Marketing, further enhancing its credibility and access to cutting-edge tools and resources.
As Digital Edge expands its presence into the European market, it brings a proven track record of growth, success, and a commitment to empowering businesses with result-oriented digital marketing solutions. The agency's impressive YoY growth, diverse sector expertise, high client retention rate, successful campaigns, and industry recognition position it as a trusted partner for businesses seeking to thrive in the digital landscape.
For more information, visit – https://www.digitaledgeinstitute.com/
If you have any objection to this press release content, kindly contact pr.error.rectification@gmail.com to notify us. We will respond and rectify the situation in the next 24 hours.