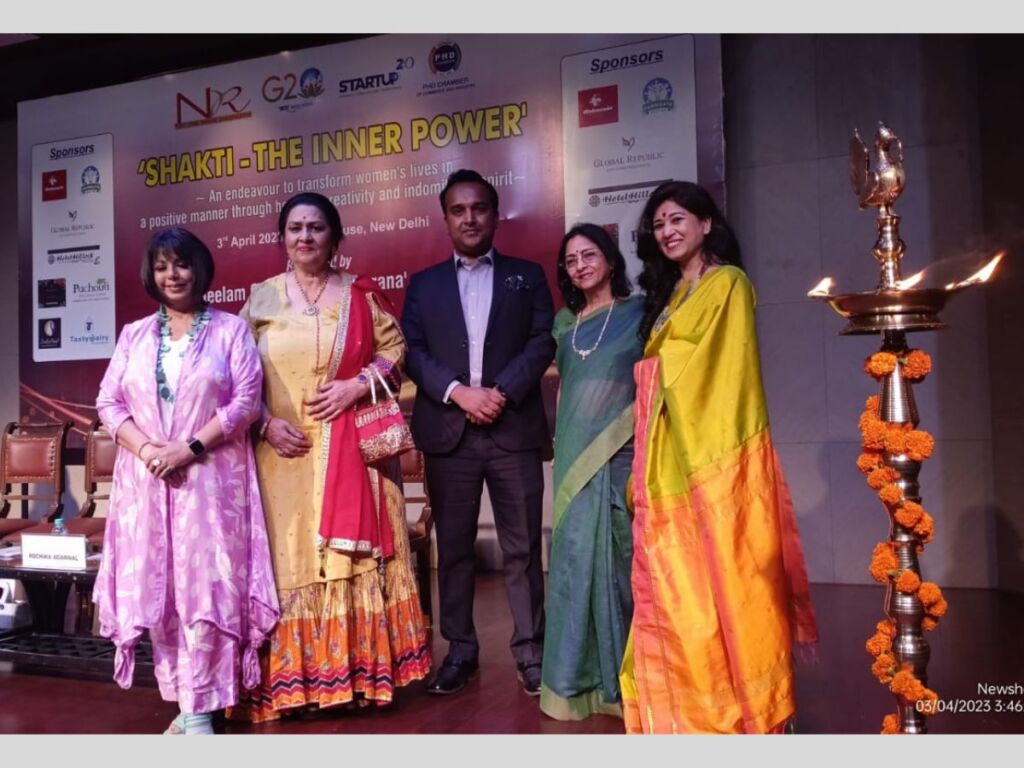 New Delhi (India), April 8:  'Shakti- The Inner Power' Symposium received standing ovation from the audience. Held on 3rd April 2023 at PhD Chambers of Commerce & Industry in New Delhi, symposium was a stupendous success.
Lieut. Dr Rita Gangwani applauded the unique presentation and said , "women must have confidence in self ".  Ms. Rochika Agarwal, Member – Central Board of Film Certification, Information & broadcasting ministry, GOI
Fashion Designer, theatre Actor, Kathak dancer says, "women are Shakti and they must remember their roots. They must pass those values and faith onto their family".
Hosted by Neelam Gupta & Wini Khurana, Symposium 'SHAKTI – THE INNER POWER' is an enterprise to transform women's lives in a positive manner. "Today we have had an amazing experience. Entire Symposium was appreciated for its concept and presentation. It had varied hues and flavours. Everyone present took something with them from this event. It's been a time and effort well invested. We thank all who have come out to support us in our maiden venture with their professional assistance as well as presence," says Neelam Gupta.
Wini Khurana, whose brainchild and dream project this concept is, says, "A strong woman knows she has strength enough for the journey, but a woman of strength knows it is in the journey where she will become strong."
The Symposium was well attended by an audience who was varied and from all walks of life .The audience appreciated the efforts showcased in the Symposium which gave food for thought as to the need for speeding up gender equality which can come about primarily through empowerment of women ,which is the stronger gender.
Renowned speaker Preeti Subberwal, an established Executive Presence Coach, Master Trainer, and a Growth Mindset Architect, gave an innovative and inspiring talk. She interacted with audience to present live examples. Second eminent speaker Kiran Sandhu who is a Behavioural Specialist and Coach with More than 20 years of experience behind her, gave a very detailed and invigorating talk incorporating everyday words to connect with people. She made her interaction humorous to keep it light and engaging. Sachin Gupta, a known film and theatre director as well as Director at Chilsag Entertainment Network, is bringing Bharat Natyam by Aparna Nair as a representation of his craft. Bharatnatyam showcases the influence of theatre and theatrical in personality development.
Symposium had a Panel Discussion on Mental Health moderated by leading neurologist Dr Sonia Lal Gupta along with panellists Shama Soni who is a single mom, an entrepreneur, philanthropist and social worker with 15 plus years of corporate experience. Another panellist is Dr Pramit Rastogi who is US trained Child, Adolescent and Adult Psychiatrist and Psychotherapist with a background in Public Mental Health. Fourth panellist was advocate Prachi Mehta.
Highlight of the Symposium is 'Shakti Walk' wherein women in the garb of Sita, Draupadi, Maharani Tarabai, Rani Lakshmibai, Mira Bai, Sushma Swaraj etc from Different Eras walked on stage representing Stree Shakti on the background of Story Telling by Neelam Gupta and music on Tabla by Ustad Zaheen Khan. Zaheen Khan took his training from well known table player of Ajrada Gharana and his grandfather Ustad Hashmat Ali Khan. This walk emphasized the fact that women are indeed powerful within and can carry their convictions without external help. Somya Thareja as Sita, Isha Sethi as Draupadi, Isha Verma as Mira Bai, Santosh Kataria as Rani Laxmibai, Harshita Kataria as Rani Tarabai, Anita Mahapatra as Mayee Bhago and Vandana Kharbanda as Sushma Swaraj mesmerized the audience.
An independent artiste & rapper MickyB enthralled the audience with his songs. Interspersed with many diverse flavours, the Symposium was a heady mix of expertise, guidance and entertainment.
Corporates and companies supporting the symposium are Pachauli Wellness Clinic, Hotel Hillock, Club Mahindra, Stanmax, Alaknanda, Farmgate, Tasty Dairy, Global Republic and MINNIE'S.
If you have any objection to this press release content, kindly contact pr.error.rectification@gmail.com to notify us. We will respond and rectify the situation in the next 24 hours.